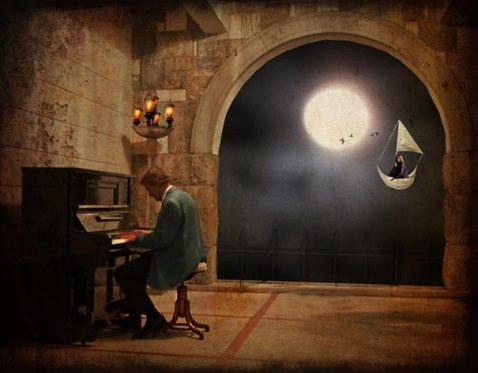 Salvidor Dali
---
Baruch Goldstein and his Hebron Massacre

(Feburary 25, 1994)

Man woke up, greeted family members,

Treating them normal, his voice spoke tender;

no regret to forget yet

his wife and children;

fend for themselves soon-- could they read this

in his eyes?

Let goodbyes of affection part from his lips

as fate would mark him self-made martyr.

At the Tomb of the Patriarch, lives became barter.

Made dead wrong faster that Hebron massacre?

Made worthwhile by long-term lasting?

Or disasterous

only for shortness

of human life span?

Us torturously

held fast to that breath-taking breath

just before breaking time's fabric

so graphic:

Making death's-caste mask quick;

basking in silence, arrested since;

to die, but first-- to wince,

with life torn limb from limb;

And from thence to whence?!

Is this sin?

That is the question!

BUT THROUGH ETERNITY exasperatingly at last!

Sticking to the mind of Baruch Goldstein-- yet

castrating birth of plenty other designs--

any more worthy than to be beaten?

Mauled by the mob in trade-off,

gory story of barter:

Glory in God's Honor

joining ranks by charter.

No move smarter, bur muddled by slaughter.

Blotting sinners from time immemorial.

Just picture for the records, this mixture malignly spinning free

in sea of dust and debris-- another second of infinity--

no longer in the reckoning.

For the dead know nothing

until time's finished passing.

There where all will be revealed:

calling in the sheep from the field.

© 2009 Jeffrey E. Wyatt

IN DARKNESS OF MOURNING CAUGHT

Not star, not planet, not moon

But a meteor flung too soon.

In darkness of morning caught

By folly's sweet melancholy,

Saturn's child lay deep in thought

Among cut-down trees from wild fields;

To be confined, hard heart reeled,

With sixteen men like sleeping logs

Sounding steady bubbling chorus

Like gnarled pack of snarling dogs;

Steel bars surrounding like forest

In this room within a room.

By jeffrey e. wyatt

@6/23/03

RENEW

Today my piggish mule

Leaps from dark pools:

Discontented sleep

Fuels conscious

Awakens fires;

Cannot contain

Deepest desires

-- butang choir

Singing together

"To live forever"

-- A metaphor,

Gives endeavors

New life and more

And quickly severed

My mortal need

To rest and feed

By giving goals to

My colored soul's

Grey dream diagram:

Roentgenogram,

I fear forsaking;

I've burst to waking

The earth's my taking.

By jeffrey e. wyatt

@2001

SUBJECTIVE DOCTORING

In my prison I see what I see
From what's risen from random debris
But when vision reveals it's me
And my decision that creates fission,
This joining of reason, permeating
Splitting reality's totality in actuality
Describing only me, my impressing limits,
Because life's bigger than I'm expressing,
I solicit truth,
Rigging forgiveness from dentist to leave
Me one tooth, that I grieve to learn
This one kernel forsooth meant this,
This one lonely proof,
That I doctor myself
And the healing burns, yearning to know
As I am cast from unbreakable mold
Unspeakable, bold,
I break when I am old
If not before
I'm told.

jeffrey e. wyatt @2003

Anautarchia Americana

Anautarchia Americana
Mounted her steed, encountering
Summer sun's profound advent
Floundering gloriously demented;
Sounding loud vox Humana
Anautarchia Americana
Countermarched cold tramantana
Furiously floundering a manana
Till Sweet Sister Winter began
To whisper soothing Fata Morgana;
Not wanting to dismiss her unconvincing,
"just another phase, my dear,
"give it just a few more days,
"for change is here commencing."
But shrugging shoulders Anautarchia
Merely folded her arms glowering,
Silently missing Winter's charms,
Darkly harboring inner alarms,
Unable to envision new blooms flowering
Her patience fuming and spirit cowering
Her pericardial fluids not assuaging
The beat of her heart-- it's friction aging.
Until late evening passed and early morning rose
Red and shining, petals glistening newborn pose.
Yet Anautarchia Americana slept hard,
Exhausted from her disregardful thought process;
Lost unconscious, unknowing that her losses
Guard the gains of progress, like grains of sand
In congress beneath Winter's stillness,
For only a time, a song of rest.

@2000 Jeffrey Wyatt

anautarchia (pronounced an au TORE kee uh);
noun meaning "perpetual unhappiness".

example in sentence: "There are people who live in anautarchia for no
apparent reason, making everyone else in their life miserable as well."

AMIBIOCULAR
(not just another warning)

Western thought bought by the masses;
Best learned from youth, taught in classes;
Then reinforced in course of time.
In context of healing others,
Invested mind becomes blinded
by chatter of poorest agenda.
When can't see forest for trees;
Not listening, missing;
Looking far with binoculars
When needing to be ambiocular.

Whether just a word or bullet to the brain
Permanent relief remains truest gain.


@2000+another justjeff rhyme for the times

DISCOVERING BOUNDARY

Grain of sands rubs hands
Oyster makes the Pearl
Pain of man inside
Hoists flags soon unfurled
But gagged and snubbed pride,
Boundaries sight unseen
Sounding silent screams
Can hide conscience plain
Hounding sensation
Our sessions maintain
That communication
Makes professional name.

How exchange keeps us sane.

@2000+another justjeff rhyme for the times...

Death's Density: Not Quiet Quietus

your patience festering

appropriately

as life fills you, thrills you,

yet leaves you empty

at unrest, pondering

greatest mystery,

pestering you with

the meaning of it all:

culminating death.

but with regard to that,

this race to unknown,

we observe from our place

from our own backyard

there in high heaven's space

where lone bird flying far

leaves no trace as it roams

just leaves us grieving

conceiving density of stone.

instead of perceiving

immensity of grass,

we stomp the grace

and scorch the past,

like Nero prancing with

Caligula's fiddle,

NOT promethean,

never quid pro quo,

but out of tune too soon;

not burning forever

but burned up, passe',

phrenetic, pathetic;

forgot how to play.

©2003, another justjeff rhyme for the times...

jeffrey wyatt

Copyright © 2006 Jeffrey E. Wyatt
---
Jeffrey E. Wyatt, a graduate from UNCW, is a practicing massage therapist
who also indulges in multiple art forms including writing prose and poetry,
fiction and nonfiction; plays guitar, piano, and trumpet; composing music
for same, including original scoring for 5-piece jazz band ensemble.

for example of his attempts at combining words & images go to
http://www.justjeff.bravehost.com to view; this website remains under
construction, but has enough to display some originality.

finally, although especially proud of his own personal ideas of creativity,
jeffrey feels collaboration to be his biggest forte`; with, words as his
largest talent yet biggest enemy, call him and find out: (910) 233-3712.
or you can write justjeff@hotmail.com; remember, we all know what comes
after pride!